On Monday February 27th, 2012, WikiLeaks began publishing The Global Intelligence Files, over five million e-mails from the Texas headquartered "global intelligence" company Stratfor. The e-mails date between July 2004 and late December 2011. They reveal the inner workings of a company that fronts as an intelligence publisher, but provides confidential intelligence services to large corporations, such as Bhopal's Dow Chemical Co., Lockheed Martin, Northrop Grumman, Raytheon and government agencies, including the US Department of Homeland Security, the US Marines and the US Defence Intelligence Agency. The emails show Stratfor's web of informers, pay-off structure, payment laundering techniques and psychological methods.
A peculiar letter that appears it has reached Stratfor, one of the key US think tanks, describes some pre-9/11 events as part of an operation allegedly designed by the Israeli national intelligence agency, Mossad. The letter contains impressive details about the alleged operation and it seems that it has been sent through the contact form at Stratfor website.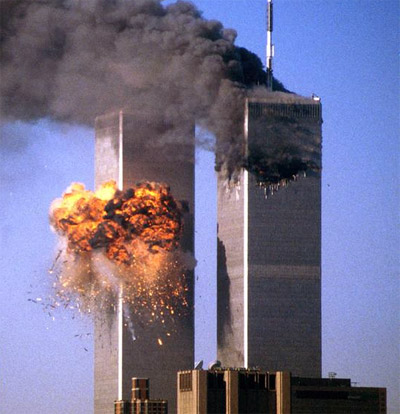 The author of this info under the title "Mossad ran 9/11 Arab "hijacker" terrorist operation", appears to be Wayne Madsen*. Below, you can read some indicative parts:
British intelligence reported in February 2002 that the Israeli Mossad ran the Arab hijacker cells that were later blamed by the U.S. Government's 9/11 Commission for carrying out the aerial attacks on the World Trade Center and Pentagon. WMR** has received details of the British intelligence report which was suppressed by the government of then-Prime Minister Tony Blair.




In mid-August, the Mossad team running the Hamburg cell in Boston reported to Tel Aviv that the final plans for 9/11 were set. The Florida-based Mossad cell reported that the documented "presence" of the Arab cell members at Florida flight schools had been established.




The two Mossad cells studiously avoided any mention of the World Trade Center or targets in Washington, DC in their coded messages to Tel Aviv. Halevy covered his tracks by reporting to the CIA of a "general threat" by an attack by Arab terrorists on a nuclear plant somewhere on the East Coast of the United States. CIA director George Tenet dismissed the Halevy warning as "too non-specific." The FBI, under soon-to-be-departed director Louis Freeh, received the "non-specific" warning about an attack on a nuclear power plant and sent out the information in its routine bulletins to field agents but no high alert was ordered.
The two Mossad "Al Qaeda" infiltration and control teams had also helped set up safe houses for the quick exfiltration of Mossad agents from the United States. Last March, WMR reported: "WMR has learned from two El Al sources who worked for the Israeli airline at New York's John F. Kennedy airport that on 9/11, hours after the Federal Aviation Administration (FAA) grounded all civilian domestic and international incoming and outgoing flights to and from the United States, a full El Al Boeing 747 took off from JFK bound for Tel Aviv's Ben Gurion International Airport. The two El Al employee sources are not Israeli nationals but legal immigrants from Ecuador who were working in the United States for the airline. The flight departed JFK at 4:11 pm and its departure was, according to the El Al sources, authorized by the direct intervention of the U.S. Department of Defense. U.S. military officials were on the scene at JFK and were personally involved with the airport and air traffic control authorities to clear the flight for take-off. According to the 9/11 Commission report, Transportation Secretary Norman Mineta ordered all civilian flights to be grounded at 9:45 am on September 11." WMR has learned from British intelligence sources that the six-man Mossad team was listed on the El Al flight manifest as El Al employees.
WMR previously reported that the Mossad cell operating in the Jersey City-Weehawken area of New Jersey through Urban Moving Systems was suspected by some in the FBI and CIA of being involved in moving explosives into the World Trade Center as well as staging "false flag" demonstrations at least two locations in north Jersey: Liberty State Park and an apartment complex in Jersey City as the first plane hit the World Trade Center's North Tower. One team of Urban Moving Systems Mossad agents was arrested later on September 11 and jailed for five months at the Metropolitan Detention Center in Brooklyn. Some of their names turned up in a joint CIA-FBI database as known Mossad agents, along with the owner of Urban Moving Systems, Dominik Suter, whose name also appeared on a "Law Enforcement Sensitive" FBI 9/11 suspects list, along with the names of key "hijackers," including Mohammed Atta and Hani Hanjour, as well as the so-called "20th hijacker," Zacarias Moussaoui.
Full letter:
Although the letter had been circulated in various websites and forums, doesn't seem to have drawn too much attention.
* From Wikipedia, Wayne Madsen (born April 28, 1954) is an American journalist, author and columnist specializing in intelligence and international affairs. He is the author of the blog Wayne Madsen Report. He has been described as a conspiracy theorist.
Between 1985 and 1989 Madsen held a series of jobs, first working for RCA as a government consultant on contracts for the National Security Agency (NSA). Later he worked for the Navy's Naval Data Automation Command as a civilian employee. After this Madsen briefly established his own consulting firm, then worked for the National Bureau of Standards, and later for the State Department. In 1990 Madsen joined Computer Sciences Corporation, working there from 1990 until 1997, when he joined the Electronic Privacy Information Center (EPIC) as a senior fellow. In 1998, while at EPIC, Madsen was described by journalist Jason Vest in the Village Voice as one of the world's leading SIGINT and computer security experts. In late January 2005 Madsen left EPIC. While at EPIC he appeared as a guest on 60 Minutes, ABC Nightline, Voice of America, National Public Radio, and Marketplace.
He has been described as an "odd individual" devoted to writing in an area that "teeters on a slippery slope, at the foot of which is the whole repository of Internet-perpetuated conspiracy theories" which leads to much of his writing being treated with skepticism. In 2005 Madsen began working as a free-lance journalist. He produces a blog called the Wayne Madsen Report. His articles have appeared in publications such as CorpWatch, CounterPunch, CovertAction Quarterly, In These Times, Multinational Monitor, The American Conservative, The Progressive and The Village Voice. His columns have appeared in the Atlanta Journal-Constitution, Columbus Dispatch, Houston Chronicle, Philadelphia Inquirer, Miami Herald and the Sacramento Bee. He appeared on WETA-TVs "White House Chronicle" in January 2012. He is a frequent contributor to The Alex Jones Show. He has appeared as a guest on Al Jazeera, Russia Today, Press TV, and CNBC.
In 2003 he claimed that he had uncovered information in a classified congressional report that he said contained information linking the September 11 attacks to the government of Saudi Arabia and the Bush administration through financial transactions with the hijackers. The Saudi Foreign Minister demanded the report be declassified so it could respond, however, the Bush administration refused, claiming that to do so would compromise intelligence sources and methods.
Read also: