Former SYRIZA MP and current leader of Popular Unity, Panagiotis Lafazanis, made some new big revelations about the time he was minister in the first SYRIZA administration in 2015. Speaking on Vima FM radio, he claimed that he had himself prepared a plan that could lead Greece out of the euro monetary prison, but SYRIZA leader and current Greek PM, Alexis Tsipras, didn't want to implement it.
He also said that he discussed with Russia to receive some billions in advance for the construction of a pipeline, while also it has been discussed the option that Greece could be supplied with oil from Venezuela.
Concerning the money supply, he said that he had a plan in case of Grexit. The Bank of Greece would had been nationalized and start to print the new drachma. He said that there was already a specific plan for printing the new drachma. He refused that there was an alternative plan in which the army was involved to guarantee the public order, or, distributing food. He characterized these claims as scaremongering.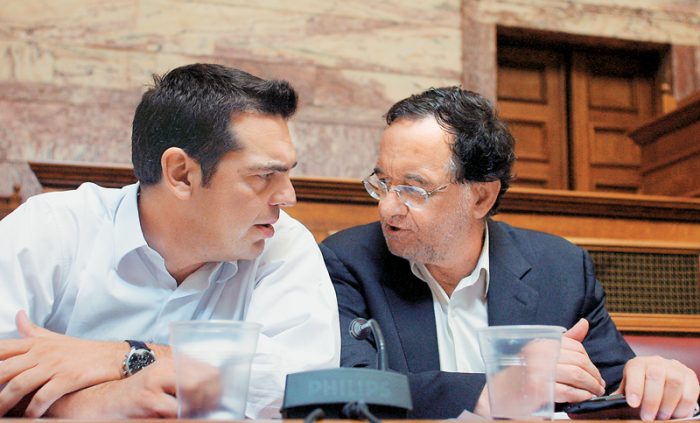 We can easily assume that the Western neoliberal priesthood was blackmailing Tsipras and his administration to death because such a move could bring a completely unpredictable domino of serious implications against the Western bloc alliance.
Yet, in the end, the Western alliance suffered a first serious defeat with Brexit and Trump. The first serious cracks on the Western bloc are now quite evident.
Recall that Lafazanis and others left SYRIZA to form Popular Unity when Tsipras surrendered to the European Financial Dictatorship, by signing a third catastrophic memorandum. Previously, the Greek people voted clearly against Troika (IMF, ECB, European Commission) policies through referendum decided by SYRIZA administration in summer 2015.
Note also that the British journalist, Paul Mason, made a revelation in May 2015, about the plans of the European Financial Dictatorship, concerning SYRIZA in Greece. Through his article
Why Greece's Syriza party is not sticking to the script on an IMF deal
, confirmed that the European plutocracy's puppets had already some plans which included SYRIZA's split, in order to get rid of the dangerous 'elements' like Lafazanis and transform SYRIZA into a social-democratic party that will faithfully obey to their orders:
In the script according to the eurozone, the expected ending is: Syriza splits; finance minister Varoufakis makes good his pledge not to sign a surrender and resigns. A government of the centre-left forms, with Alexis Tsipras now allied to the centrist Potami party and with tacit support from a liberal wing of the New Democracy party. Debt relief happens, but on the terms dictated by the lenders, and Syriza survives to complete its mutation into a centre-left social democratic party.
It is obvious that, two years ago, Greece lost a great chance to break the chains from the European Financial Dictatorship.