The Donald just can't get enough of Goldman Sachs. Another
Goldman Sachs executive
has been chosen by Trump to fill a senior role in his administration. White House is literally taken over by the vampire mega-bank:
President Donald Trump has selected yet another Goldman Sachs executive to fill a senior role in his administration, naming the firm's current managing director, James Donovan, to serve as deputy Treasury secretary.
Donovan would be the sixth member of Trump's team with ties to Goldman
, which was once described as "a great vampire squid wrapped around the face of humanity, relentlessly jamming its blood funnel into anything that smells like money." Donovan's now-boss, Treasury Secretary Steven Mnuchin, also worked at the investment bank. National Economic Council director Gary Cohn; White House senior counselor for economic initiatives Dina Powell; and chief strategist Steve Bannon also formerly held positions within the very institution that Trump pointed to on the campaign trail as a symbol of Wall Street corruption and greed. Jay Clayton, Trump's nominee to lead the Securities and Exchange Commission (SEC), was a Goldman Sachs attorney.
No pretexts needed anymore. Welcome to the United States of Goldman Sachs!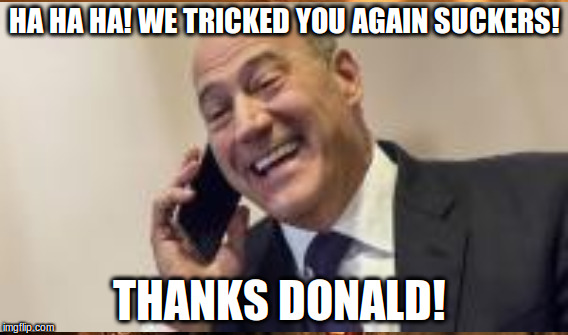 Related: